Established in 2009, the International Association of Inter-American Studies (IAS/EIA) seeks to promote the interdisciplinary study of the Americas, focusing in particular on interconnections between North, Central, and South American culture, literatures, media, languages, histories, societies, politics, and economies. Going beyond national points of reference, the association's conferences and publications examine the current intensification of transnational and global trends in the Americas as well as their historical developments. Intercultural issues—along with their regional, national and hemispheric contexts—are of particular interest to this academic forum.
Third Biennial Conference of the International Association of Inter-American Studies: De/Colonization in the Americas: Continuity and Change (August 6-8, 2014 Lima/Peru)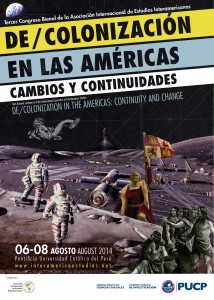 To see the photo gallery of the Second Bi-annual IAS conference in Guadalajara 2012 click here.
For a recording of the keynote address by Gilberto Giménez, "Debates Sociológicos sobre el cambio global," please click here.