President
Graciela Martínez Zalce (CISAN-UNAM, Mexico)
Graciela Martínez-Zalce Sánchez actualmente es la Directora del Centro de Investigaciones sobre América del Norte de la UNAM. Doctora en Letras Modernas por la Universidad Iberoamericana. Es miembro del Sistema Nacional de Investigadores (nivel II) y de la Academia Mexicana de las Ciencias. Es especialista en el área de estudios culturales canadienses, adscrita a las líneas de investigación de Migración y Fronteras, e Identidades y procesos culturales. Es profesora del Colegio de Letras Hispánicas de la Facultad de Filosofía y Letras, así como en el Posgrado en Ciencias Políticas y Sociales. Ha publicado libros y artículos sobre cine y fronteras y las relaciones México-Canadá.
Vice President
Luz Angélica Kirschner (University of South Dakota, USA)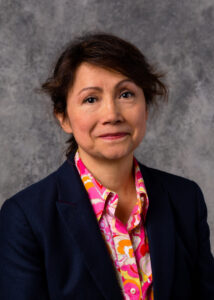 Luz Angélica Kirschner is an Associate Professor in the School of American and Global Studies at South Dakota State University. Her research is located at the intersection of gender, race, human rights, and ethnic studies and focuses on comparative studies from Inter-American and Trans-Atlantic perspectives as it explores how identity formation and difference are mediated through literature and aesthetics as well as impacted by contemporary socio-economic manifestations such as neoliberalism and globalization. Her teaching areas include Latina/o/x Studies, Latin American Literatures and Cultures, US and German Ethnic Literatures, Decolonization, Globalization, Human Rights, Transatlantic Studies, Transnationalism, Inter-American Studies. The "Introductory Course to Inter-American Studies" that she taught during her tenure at Bielefeld University (2008-2016) successfully helped fortify the Inter-American Studies M.A. Program at this institution. Kirschner is editor and author of the volume Expanding Latinidad: An Inter-American Perspective (Bilingual Press 2012). Some of her publications have appeared in The Routledge Companion to Literature and Human Rights, The Routledge Companion to Inter-American Studies, The Cambridge History of Latina/o American Literature, The Routledge Handbook to the History and Society of the Americas, and most recently has authored and co-edited the book Human Rights in the Americas (Routledge 2021). Kirschner is currently completing her single-authored monograph with the working title The Persistence of Racialization: Literature, Gender, and Ethnicity.
Executive Director
Wilfried Raussert (Bielefeld University, Germany)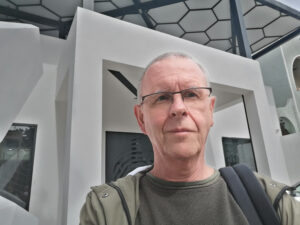 Wilfried Raussert is chair of North American and Inter-Studies at Bielefeld University. He is founder and general editor of fiar forum for inter-american research and he is new series editor of the InterAmerican Studies Book Series (University of New Orleans Press / Wissenschaftlicher Verlag Trier. He is co-founder of the Center for Inter-American Studies at Bielefeld University and co-founder and co-coordinator of the CIAS international network The Black Americas / Las Américas négras which pursues a dialogue between scholars, artists, and activists. Since 2019 he has been member of the steering committee of CALAS, the Merian Center for Advanced Latin American Studies. He was chair of the project Entangled Americas, a project funded by the Federal Ministry of Research and Education in Germany (2013-2020) and representative of the international committee of the American Studies Association (ASA 2015-2018). He is author and editor of several books on music and literature in the Americas. Among his recent publications are the edited books The Routledge Companion to Inter-American Studies (2017), The Routledge Handbook to the Culture and Media of the Americas (2020) and the monographs with inter-American perspectives, 'What's Going On': How Music Shapes the Social (2021) and Off the Grid: Art Practices and Public Space (2021).
Treasurer
Astrid Haas (University of Central Lancashire, United Kingdom)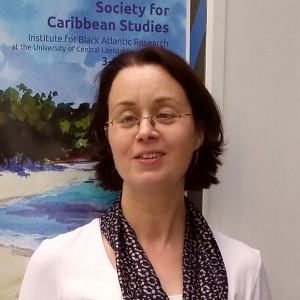 Astrid Haas is a Research Fellow at the Institute of Black Atlantic Research at the University of Central Lancashire, UK. She holds a doctorate from the University of Muenster and a postdoctoral degree from Bielefeld University (both Germany). She has also researched and taught American Studies as a research fellow, lecturer, and visiting professor at several universities in Germany. Astrid's research and teaching interests include transnational North American, Inter-American, and Atlantic Studies, the genres of travel writing, drama and autobiography, the Black and Latina/o/x Diasporas, Gender and Sexuality Studies, the medical and environmental humanities, and US popular culture. She published the monographs Stages of Agency: The Contributions of American Drama to the AIDS Discourse (2011) and Lone Star Vistas: Travel Writing on Texas, 1821-1861 (2021). Shorter contributions have appeared, a.o., in Comparative American Studies, Transnational American Studies the Journal of American Studies, the American Studies Journal, and FIAR. Her current, EU-funded research is entitled "Black Inter-American Mobilities and Autobiography in the Age of Revolutions (1760-1860)."
The IAS Advisory Board Meeting, 8 November 2021, decided to propose an alteration of article 7 of the IAS bylaws to be able to extend the Advisory Board to 13 members. The three new members were voted and approved at the General Assembly:
Paula Prescod (Linguistics, Université de Picardie Jules Verne, Amiens, France)
Roland Walter (Literary Studies, Universidade Federal do Pernambuco, Recife, Brasil)
Isabel Caldeira (Literary Studies, Feminist Studies, Universidade de Coimbra, Portugal)