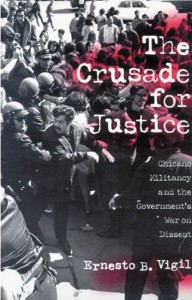 This definitive account of the Chicano movement in 1960s Denver reveals the intolerance and brutality that inspired and accompanied the urban Chicano organization known as the Crusade for Justice. Ernesto Vigil, an expert in the discourse of radical movements of this time, joined the Crusade as a young draft resistor where he met Rodolfo "Corky" Gonzales, the founder of the CFJ. Vigil follows the movement chronologically from Gonzales's early attempts to fight discrimination as a participant in local democratic politics to his radical stance as an organizer outside mainstream politics.
Drawing extensively upon FBI documentation that became available under the Freedom of Information Act, Vigil exposes massive surveillance of the Crusade for Justice by federal agents and local police and the damaging effects of such methods on ethnic liberation movements. Vigil complements these documents and the story of Gonzales's development as a radical with the story of his personal involvement in the movement. The Crusade for Justice describes one of the most important Chicano organizations against prejudice. Excerpt: "To: SAC, Denver. From: Director J. Edgar Hoover, FBI. Re: Crusade for Justice- Internal Security. 'In view of activities of Gonzales and his potential for creating disturbances and in leading others to violence, it is felt an intensive investigation of this organization is necessary.'"
Vigil, Ernesto B. The Crusade for Justice: Chicano Militancy and the Government's War on Dissent. U of Wisconsin P, 1999.