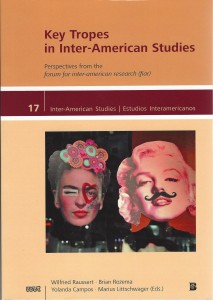 This book is a key text for scholars and students that study the Americas in a multilingual and transdisciplinary fashion. The dialogical paradigm that underlies any sincere Inter-American scholarship makes clear that no single scholarly positioning can capture the complexity of Inter-American connectivity. This is what Inter-American Studies share with Global Studies: A necessity to negotiate multiple and at times conflictive paradigms to tackle its objects of investigation. The volume introduces eight key tropes in Inter-American Studies, as they have emerged from the work of the IAS web publication platform fiar forum for inter-american research since the latter's foundation in 2008. The editors have selected eight key tropes and regrouped essays from the period between 2008 and 2015 to highlight some of the most important paradigms for the pursuit of interdisciplinary Inter-American studies. The tropes include "colonial/decolonial," "independence," "religion," "border," "mobility," "race/indigeneity," "gender," and "decolonial reflections." The key tropes chosen should not be seen as separate entities for in many respects they are related or overlap to some degree; nor are they meant to be an exclusive list of terms. They function more as a representative selection to illustrate recent paradigms and their application. For every trope the editors have included one article in English and one in Spanish.
VOLUME 17 of the book series:
INTER-AMERICAN STUDIES / ESTUDIOS INTERAMERICANOS
Edited by: Josef Raab (North American Studies, University of Duisburg-Essen)
and Sebastian Thies (Latin American and Media Studies, Bielefeld University)
Co-published with Wissenschaftlicher Verlag Trier, Germany
This interdisciplinary series examines national and transnational issues in the cultures, societies, and histories of the Americas. It creates a forum for a critical academic dialogue between North and South, promoting an inter-American paradigm that shifts the scholarly focus from methodological nationalism to the wider context of the Western Hemisphere.
Buy at Amazon.