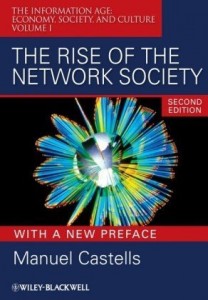 A little over a decade since its first publication, the hypotheses set out in Manuel Castells' groundbreaking trilogy have largely been verified. In a substantial new preface to the first volume in the series, Castells demonstrates, in the light of major world trends, how the network society has now fully risen on a global scale.
The book discusses how the global economy is now characterized by the almost instantaneous flow and exchange of information, capital, and cultural communication. These flows order and condition both consumption and production. The networks themselves reflect and create distinctive cultures. Both they and the traffic they carry are largely outside national regulation. Our dependence on the new modes of informational flow gives enormous power to those in a position to control them to control us. The main political arena is now the media, and the media are not politically answerable.
Based on research in the USA, Asia, Latin America, and Europe, Castells, formulates a systematic theory of the information society and details the new social and economic developments brought by the Internet and the 'new economy'. © 1998-2001 Amazon.com, Inc. und Tochtergesellschaften
Castells, Manuel. The Rise of the Network Society: The Information Age: Economy, Society, and Culture Volume I. Wiley, 2009.