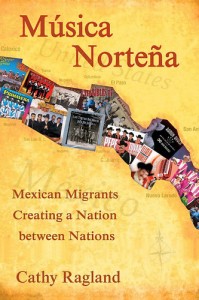 Música norteña, a musical genre with its roots in the folk ballad traditions of Northern Mexico and the Texas-Mexican border region, has become a hugely popular musical style in the U.S., particularly among Mexican immigrants. Featuring evocative songs about undocumented border-crossers, drug traffickers, and the plight of immigrant workers, música norteña has become the music of a "nation between nations." Música Norteña is the first definitive history of this transnational music that has found enormous commercial success in norteamérica.
Cathy Ragland, an ethnomusicologist and former music critic, serves up the fascinating fifty-year story of música norteña, enlivened by interviews with important musicians and her own first-hand observations of live musical performances. Beyond calling our attention to musical influences, Ragland shows readers the social and economic forces at work behind the music. By comparing música norteña with other popular musical forms, including conjunto tejano, she helps us understand and appreciate the musical ties that bind the Mexican diaspora. © 1998-2001 Amazon.com, Inc. und Tochtergesellschaften
Ragland, Cathy. Musica Nortena: Mexican Americans Creating a Nation Between Nations. Temple UP, 2009.