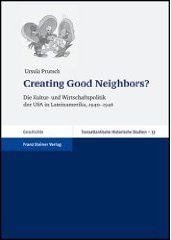 Die rasante Expansion des NS-Staates im Sommer 1940 verstärkte in den USA die Befürchtung, das Deutsche Reich – das mit Lateinamerika gute Handelsbeziehungen pflegte – könnte auf die westliche Hemisphäre übergreifen und faschistoide Regime stützen. Präsident Franklin D. Roosevelt rief deshalb das "Office of Inter-American Affairs" ins Leben, das unter der Leitung des Ölmilliardärs Nelson Rockefeller wie keine andere Institution die Beziehungen zwischen den USA und Lateinamerika prägte. Das flexible Netzwerk von Politikern, Unternehmern und Kulturschaffenden agierte als Geheimdienstorganisation, finanzierte Projekte der Gesundheitsversorgung, Nahrungsmittel- und Rohstoffgewinnung. Es nutzte Presse, Radio und Film zur Verbreitung des American Way of Life  – wobei Hollywood eine besondere strategische Rolle zukam.
Lateinamerika diente hier als Testfall für ökonomische und kulturpolitische Strategien, die nach 1945 von den USA global angewandt wurden. Der Autorin wurde für diese Arbeit der  Maria-Schaumayer-Preis verliehen.
Prutsch, Ursula. Creating Good Neighbors? Die Kultur- und Wirtschaftspolitik der USA in Lateinamerika, 1940-1946. (Transatlantische Studien – 33) Stuttgart: Steiner, 2008.