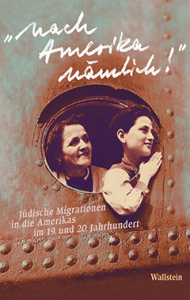 How do migrants shape their new social environmnent and how does this change their identity? This book gives an insight into Jewish migration to the Americas in the 19th and 20th century and portrays cultural exchange through migration.
Wie gestalten Migranten und Migrantinnen ihr jeweils neues soziales Umfeld, und wie verändert das ihre Identität?
Seit ihrer Entdeckung am Ende des 15. Jahrhunderts sind Nord- und Südamerika realer und imaginierter Fluchtort sowie Hoffnungsträger für Menschen aus allen Teilen der Welt. Vor allem als universalhistorische Erscheinung jedoch ist Migration sehr eng mit der jüdischen Geschichte der letzten Jahr­hunderte verknüpft.
Die Beiträge des Sammelbandes fragen nicht nur nach den auslösenden Faktoren für Migrationen und die Verläufe derselben, sondern auch nach dem durch Migration entstehenden kulturellen Austausch.
Aus dem Inhalt:
Michaela Raggam-Blesch: Arrival in the »New World«. Neuanfang im Exil unter geschlechtsspezifischen Aspekten
Helga Embacher: Jüdische Migration im 20. Jahrhundert
Andrea Strutz: Wege nach Kanada im 20. Jahrhundert
Christian Cwik: Emigration und Flucht österreichischer Juden nach Lateinamerika 1900-1945