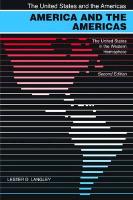 In this completely revised and updated edition of America and the Americas, Lester D. Langley covers the long period from the colonial era into the twenty-first century, providing an interpretive introduction to the history of U.S. relations with Latin America, the Caribbean, and Canada. Langley draws on the other books in the series to provide a more richly detailed and informed account of the role and place of the United States in the hemisphere. In the process, he explains how the United States, in appropriating the values and symbolism identified with "America," has attained a special place in the minds and estimation of other hemispheric peoples.
Discussing the formal structures and diplomatic postures underlying U.S. policy making, Langley examines the political, economic, and cultural currents that often have frustrated inter-American progress and accord. Most important, the greater attention given to U.S. relations with Canada in this edition provides a broader and deeper understanding of the often controversial role of the nation in the hemisphere and, particularly, in North America.
Commencing with the French-British struggle for supremacy in North America in the French and Indian War, Langley frames the story of the American experience in the Western Hemisphere through four distinct eras. In the first era, from the 1760s to the 1860s, the fundamental character of U.S. policy in the hemisphere and American values about other nations and peoples of the Americas took form. In the second era, from the 1870s to the 1930s, the United States fashioned a continental and then a Caribbean empire. From the mid-1930s to the early 1960s, the paramount issues of the inter-American experience related to the global crisis. In the final part of the book, Langley details the efforts of the United States to carry out its political and economic agenda in the hemisphere from the early 1960s to the onset of the twenty-first century, only to be frustrated by governments determined to follow an independent course. Over more than 250 years of encounter, however, the peoples of the Americas have created human bonds and cultural exchanges that stand in sharp contrast to the formal and often conflictive hemisphere crafted by governments.